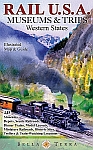 RAIL U.S.A. MUSEUMS & TRIPS – WESTERN STATES
Illustrated Map & Guide
A guide for rail enthusiasts, vacation travelers and families. Locates and describes 456 rail attractions from the Great Plains and Texas to the Pacific. Includes rail museums, historic depots, scenic railroads, dinner trains, model railroads, train-watching sites and much more. With 16 brilliant original watercolor illustrations.
Size: 27" x 39". Folded to 6" x 9-3/4", retail $9.95. Laminated poster, retail $14.95.