Bella Terra Publishing produces beautiful, informative United States travel maps that offer as much information as guidebooks—at a fraction of the price.
Most of our special-interest maps feature original watercolor illustrations, many of which are available as art prints & notecards. We also publish contemporary watercolor images, and vintage art from the 16th to early 20th centuries.

BELLA TERRA PUBLISHING, LLC
P.O. Box 731, Rhinebeck, NY 12572
Tel: 845-876-5750
Toll-free fax: 866-954-6119
Email: sales@bellaterramaps.com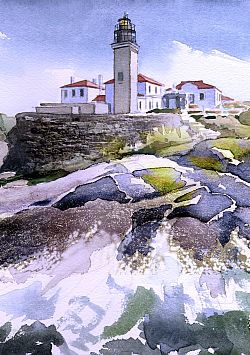 Detail of Beavertail Light, RI © James Mann
from Massachusetts & Rhode Island Lighthouses.