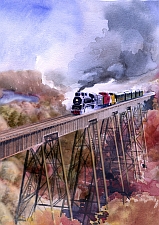 RAIL U.S.A. – MUSEUMS & TRIPS
is a series of guides to more than 1,200 rail attractions across the entire country—the most comprehensive and up-to-date listing anywhere!

Locations are shown on detailed maps for easy travel planning. Text includes descriptions, physical locations, contact info and symbols for 8 categories of attractions. Each map is illustrated with 16 specially commissioned watercolor illustrations—all available as art prints and notecards.

Above: Boone & Scenic Valley Railroad, Iowa, by James Mann, from RAIL U.S.A. Central States.
Below: Map & text details of Oklahoma, from RAIL U.S.A. Western States.


RAIL U.S.A.
Eastern States – 2nd Edition
Atlantic Coast from Maine to Florida, plus Vermont, Pennsylvania & West Virginia.
Central States
From Ohio thru Minnesota in the north, Alabama to Louisiana in the south.
From the Great Plains & Texas to the Pacific, including Alaska & Hawaii.
Complete Set
Eastern, Central & Western States in a book-sized packet.


NATIONAL GEOGRAPHIC
Railroad Legacy Wall Map
Current and c1920 railroads & rail hubs in all 50 states.